CATEGORY: PERSONAL STORIES
Ben, a resident Oceans PARC wrote a letter to share his first-hand experience about what life during COVID-19 feels like.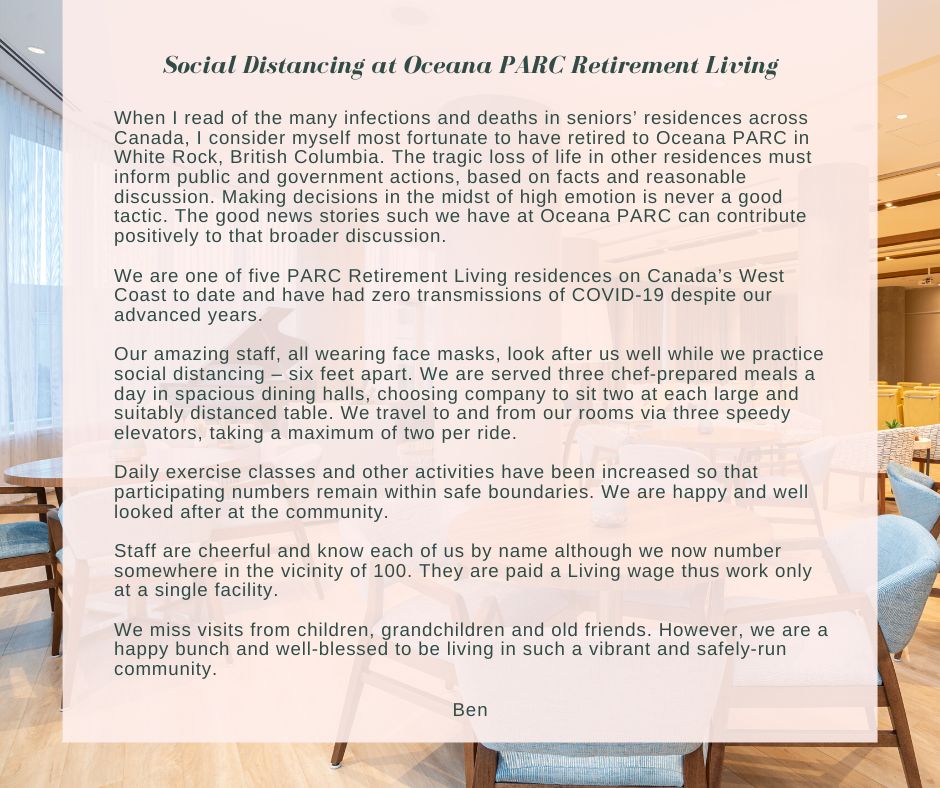 Our resident, Ben wrote a letter to share his first-hand experience at Oceana PARC. With safety measures set in place, PARC is working hard in protecting residents and balancing their desire to live independently during this COVID-19 times.
When I read of the many infections and deaths in seniors' residences across Canada, I consider myself most fortunate to have retired to Ocean a PARC in White Rock, BC. The tragic loss of life in other residences must inform public and government actions, based on facts and reasonable discussion. Making decisions in the midst of high emotion is never a good tactic. Th good news stories such we have at Oceana PARC can contribute positively to that broader discussion.
We are one of five PARC Retirement Living residences on Canada's West Coast to date and have had zero transmissions of COVID-19 despite our advanced years.
Our amazing staff, all wearing face masks, look after us will while we practice social distancing - six feet apart. We are served three chef-prepared meals a day in spacious dining halls, choosing company to sit two at each large and suitably distanced table. We travel to and from our rooms via three speedy elevators, taking a maximum of two per ride.
Daily exercise classes and other activities have been increased so that participating number remain within safe boundaries. W are happy and well looked after at the community.
Staff are cheerful and know each of us by name although w now number somewhere in the vicinity of 100/ They ar paid a Living wag thus work only at a single facility.
We miss visits from children, grandchildren and old friends. However we are a happy bunch and well-blessed to be living in such a vibrant and safely-run community.