Holland Gardens Review
552 Holland St W, Bradford, Ontario, L3Z 2H4
---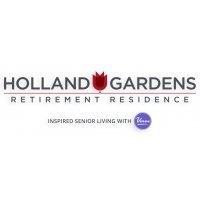 | | |
| --- | --- |
| TYPES OF CARE OFFERED | Dementia & Memory Care, Assisted Living, Independent Living |
| COST FROM | $3,250 per month |
| TOTAL NUMBER OF SUITES | 138 |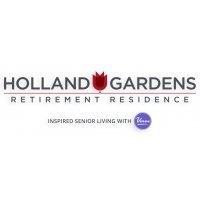 Holland Gardens is the retirement destination for people from throughout central Ontario who want to live in a close-knit community of friends. Staff like to highlight the luxurious resort-like lifestyle here – and well they should! – but we think there's a special downhome feel to Holland Gardens that you can only get with a retirement community on the outskirts of the city.
You're going to love the food here, served by an exceptionally created culinary staff who love to make dining a great experience; meals are much more than just a plate of food, they're food creations! (Check out the orange roughy with lemon butter.)
Interiors, here, are going to be bright and spacious throughout. We love the look of the welcoming, warm lobby highlighted by a fireplace. When you look at suites you will see that there are four very ideal choices. While many people here will enjoy the independent living suites and the relaxed communal living, there is also assistance available for some basic personal healthcare needs.
Holland Gardens will notably offer a full continuum of care, a unique service in the area. This will allow independent seniors to move in on their own and acquire care as they need it. This creates an opportunity for couples who have different care requirements, who want to live together in the same building.
This also promises excellent food and dining. Seniors who come in to look at the community get a preview of that when they are treated to a High Tea or a Strawberry Social. Carrotfest will be another success. Making the move out of a traditional family home into a senior living community is challenging but we find that Holland Gardens makes it very inviting!
More about this community
Meet Me at the MOMA is just one of many activities available. Holland Gardens creates an environment where people are encouraged to get out and enjoy activities as a matter of course. This activity gets people together to engage in art, one of many that gets people out, engaged with each other and learning from each other.
Photos of Holland Gardens
What people say about this community
The people that have been coming to live here are absolutely wonderful. You can't meet a better family and they've got me involved in a lot of things. You couldn't be in a better place. The staff make sure everyone is taken care of. Everyone is important to them. They make everyone in this whole building important to them ... And we have such laughs here, too. It's not just a pleasure, it's a privilege to live here.
New community: more reviews coming soon!
---