Stouffville Creek Retirement Residence Review
40 Freel Lane, Stouffville, Ontario, L4A 0P5
---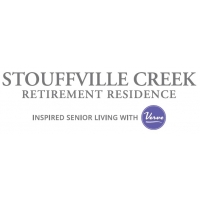 | | |
| --- | --- |
| TYPES OF CARE OFFERED | Assisted Living, Independent Living |
| COST FROM | $3,546 per month |
| TOTAL NUMBER OF SUITES | 118 |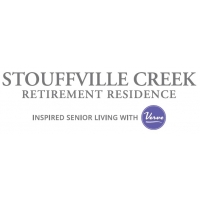 Seniors and families searching for senior care in Stouffville will find a myriad of choices: but one that stands out is Stouffville Creek. This is a place that will make you change your plans. Not only is it exceptionally elegant and beautiful, both the residents and the staff are wonderfully welcoming and caring. "We struck up conversations on our initial tour, and were immediately impressed with how wonderful and happy people were here," said one senior here.
Staff here is something that residents and visitors consistently highlight. Whether you are still quite independent or require some assistance, people here are gifted at addressing needs. Dedication, hard work and enthusiasm for the work of care for residents characterize staff at Stouffville Creek. In the end, you can't put a value on the feeling of security and confidence you can have, knowing the diligence of those who work here.
Stouffville Creek brings peace of mind to everyone involved – both to those who move in here and their family members. That's one of the great benefits of a community like this one: the stress-reduction for everyone, knowing how well you are looked after every day.
More about Stouffville Creek Retirement Residence
A spacious movie theatre, a pool room, library, hair salon are some of the main features of the residence, but there are more!
Wellness services onsite include massage therapy, fitness area, foot care, physiotherapy …
Safety and security are, of course, a prominent feature of this community, including a 24 hour emergency response system safeguarded through personally issued pendants, security cameras and more features and technology added often!
Photos of Stouffville Creek Retirement Residence
What people say about this community
The staff at Stouffville Creek Retirement Residence … helped a lot in my recovery from my hip surgery. The nurses, physiotherapist, etc. ensured my well-being and aided in the healing process. Doctors told me that I would not be able to walk as I did prior to surgery, but with all the help and care I got from Stouffville Creek, I walked into the doctor's office with my own two feet. I sure showed them!
My mother's care at Stouffville Creek has been a blessing, in improved health, energy level and overall well-being. She has improved 100% from the time I brought her in a year ago. The staff is wonderful. They are not only true professionals, but beautiful human beings. Thank you for everything you've all done for my mom.
I love how warm and friendly the residence is. There are windows everywhere, which makes it so bright and inviting. I could not be happier elsewhere.
The staff is something to behold.  Everyone is so nice… Being served under such elegant circumstances is a delight.
---