Seniors connecting in quarantine
Staying socially connected despite distancing
Seniors are able to stay connected in retirement homes much better than they would elsewhere. Staff are on hand to help them learn how to work with Zoom, FaceTime and other apps. In addition, the expansive grounds of many communities allow for families and seniors to connect outside (at a safe distance, always). Below are social media posts and examples of seniors making the best of distance communication that keeps them both connected to those they love, and safe from the virus.
Below is just a sampling of some of the finer moments, from hundreds of positive social media updates and blog posts showing seniors doing very well in communities listed on Comfort Life.
PARC Retirement Living Innovates Family Visiting
PARC Family Meetup Centres are a first in Canada, a safe way for residents to connect with their loved ones. "We wanted to be able to create a face to face environment for residents and their families," said Westerleigh PARC's GM in a Facebook post. While seniors have remained connected with family online, "there is no replacement for a face-to-face conversation with your loved one." One family member loves the way it allowed them to "just focus on visiting [instead of whether] the technology is [working or not]." This timely, responsive innovation was featured in local news outlets like Burnaby Now and Powell River Peak, as well as CTV News.
The video below shows both family members' and seniors' delight in safe face-to-face meetings.
Canine-connections at Greenwood Retirement Communities
At Retirement Suites by the Lake, part of Greenwood Retirement Communities, seniors are staying positive, thanks in part to their dogs, who help them keep socially and physically active. They embrace the freedom to keep exploring life with the confidence gained by their trust in being safe, thanks to great care from staff there.
A daughter's love makes local news, at Promenade
In April, Ottawa's Promenade Seniors' Suites & Retirement Residence made local headlines with a story of Martine Menard exercising with her father. She planned on celebrating her father's 84th birthday with more exercise! Watch the heartwarming video below, showcasing her daily devotion to her father and her trust in the caring staff at Promenade.
Celebrating birthdays and anniversaries
In July, Edna from Lynde Creek Manor by Esprit Lifestyle Communities celebrated her 102nd birthday!! She looks great!! Happy birthday Miss Edna!!
---
At V!VA Barrhaven, in early June, Ken and Carol celebrated 60 years together.
---
At Thornebridge Gardens in New Westminster, Enid used Zoom to celebrate her 100th birthday(!) in later April, with family. Staff at the community, meanwhile, all wished her a happy birthday from outside. View the LinkedIn post.
---
At V!VA Mississauga, in April, senior resident Jack's family came out to celebrate his birthday and brighten his day, while still keeping their social distance. "You can't change the strength of love we have for one another."
Check out the good news Facebook post.
Check out fellow resident Mary's message of hope and gratitude.
---
At Westerleigh PARC in West Vancouver, Bill celebrated his 92nd birthday. Sure to honour social distancing measures, his daughter, Barbara, dropped in and sang happy birthday over the phone and in-person through the bistro window. "How sweet!"
Check out the original post on LinkedIn.
Staying social across the distance, at Verve
We just love this image from Granville Gardens of these ladies enjoying a chat outside.
Socializing across distance, at Lake Bonavista (Calgary)
At Lake Bonavista Village Retirement Residence in Calgary, they're still reaching out to family by visiting with each other online. Residents "are still having fun connecting with their families during these difficult times!" says a post on LinkedIn.com.
View the full post here.
Verve's Hawthorn Park Retirement Community reports that residents "are doing well." Seniors in the Kelowna, BC community are enjoying happy hour, albeit with some social distancing. "We are supporting each other!" says a post on their LinkedIn page. At this and other Verve communities, residents' lives are still celebrated in spite of the temper of the times. Another post on LinkedIn shows how birthdays are still celebrated at Richmond Hill Retirement Residence and other communities.
Delmanor Communities, found across the GTA, also use their Facebook page to share a variety of fun, light posts showing residents and staff keeping things as positive as possible. From their celebration of a "hoppity easter" to one resident's personal connection to COVID-19 research, residents are doing "so far, so good."

Residents at Delmanor Prince Edward love their rooftop terrace overlooking the Humber River and a view of the Toronto skyline. Fresh air ... beautiful scenery ... life is still inspiring here!
Keeping connected at Schlegel Villages
Bridging social distance across the country
Gloria "just wanted to see [her mom, Francis]'s face." See how they had some happy together-time at the Village of Wentworth Heights in spite of social distancing measures.
Check out their Facebook video here.
At the Village at St. Clair in Windsor (a long term care home), one family posted a happy, assuring greeting through the window.
---
Connecting cross-country at The Village of Riverside Glen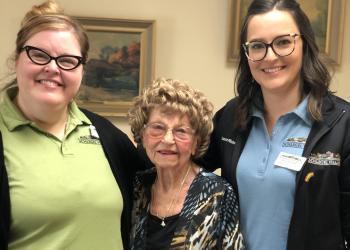 Val Marie Coutts lives more than 4,000 km away from her mother Donna and was scheduled to fly out and visit her in the Village of Riverside, on March 17. Here plans were cancelled, of course, a situation that was devastating for Donna, who has always been a social person and loves nothing more than visits with her friends and family. However, staff at the community were able to bridge the distance.
Read "Connecting with Love from Across the Country," from Schlegel Villages blog.
---
The world is changing before our eyes as communities across the world manage the COVID-19 crisis and work to protect those at the greatest of risk. This situation is unprecedented. At Schlegel Villages across Ontario, teams are working tirelessly to support residents in every way they can.
Villa De Rose
Wonderful family moments continue, despite the distance
A changed reality at the Lodge at Valley Ridge
"Living and working in a Senior's Active Living Community has certainly changed," says Teresa Merryfield of The Lodge at Valley Ridge. "Normally when I would look around our community, I would see a happy, busy and thriving community of people going about their daily business and finding joy in friendships, outings and shared activities."
The community is taking extensive measures to keep residents safe. "At the beginning of March, as we began to understand the magnitude of what was coming, our administration team quickly put strong measures in place to ensure resident and staff health and safety. All public areas were cleared so that congregation was no longer possible. Outside visitors have been restricted. No new tours are currently being conducted. All outside entertainment and events have been cancelled or postponed. This is difficult for residents who count on seeing the faces of loved ones on a regular basis."
Although residents feel the loss of social connection that we all feel, the community is adapting. "Dining service for all three meals is now being taken from door to door," for one thing. "Our Chef leads a team of incredible individuals who have done an excellent job of providing tasty, tempting hot and cold selections for meal service three times a day. Our Lifestyles Team is creating new ways of ensuring mental stimulation and an ongoing sense of fun by offering things like mobile library services and activity cart, shopping list completion, mobile tuck shop and the ever-popular mobile happy hour. Our Wellness staff is taking great care to deal with any signs of emotional strain as well as any physical concerns." The residence is also following safety measures to ensure the safety of the environment, including daily screening and temperature checks before they come into work. "So far, we are a healthy community and for that we are thankful. Will we, one day, look back on this Covid-19 pandemic? You bet! Until that time, all any of us can do is our best. We'll follow the rules and stay safe individually and as a community so that one day soon we will be able to enjoy social freedom once more."
Learn more about the Lodge at Valley Ridge.
Easter celebrations
Across Verve communities, residents celebrated Easter in unique ways. At Canterbury Place Retirement Residence in North York, residents received a surprise visit from the Easter Bunny who left the treat, flower & a note, knocked on the door & stood back. This resident found a nice surprise when she opened the door!