Credit River Review
175 Rutledge Rd., Mississauga, Ontario, L5M 0X7
---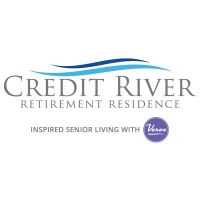 | | |
| --- | --- |
| TYPES OF CARE OFFERED | Dementia & Memory Care, Assisted Living, Independent Living |
| COST FROM | $3,200 per month |
| TOTAL NUMBER OF SUITES | 133 |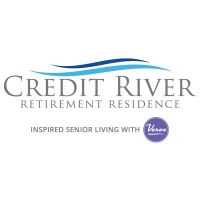 Featuring some uniquely wonderful spaces inside and out, this Streetsville retirement community brings Verve's passion for excellence to this area of Mississauga. We especially love the bright lighting in the second floor fireside room, and the large outdoor courtyard, landscaped with a rock-faced gardening, backing onto the quiet side-street. Credit River Retirement Residence is situated in a calm residential area of the city, surrounded by some well-established homes with large properties. Streetsville Memorial Park is one of the nearby greenspaces here.
This is a still-very-new building (founded in 2016) whose décor and personnel create a calm, restful atmosphere where there is an abundance of space (always a mark of contemporary design, of course).
Both family members and the seniors who live here list the most striking quality of this community as "the genuine friendliness of the staff" … their eagerness to please. And when it comes right down to it, that's the most important aspect of any retirement community. A clean, healthy environment with great food and fun activities is always important (Credit River has all those things!) but ultimately there's nothing better than being surrounded by people willing to go out of their way to make every day the best it can be.
More about this community
Total of 112 suites here, including studios, 1 bedroom, 1 bedroom +den, and two bedroom suites.
Most suites feature balconies or terraces. You can garden your balcony however you like and personalize your suite inside with anything you choose to take from your traditional family home.
This is also an exceptionally convenient location, minutes off the 401 and a short trip from Pearson Airport.
Photos of Credit River
What people say about this community
Top rating. Amazing staff!
Staff here are very caring and attentive. They listen and follow through on decisions [and] go out of their way to make the move and transition as smooth as possible. They stay in contact with the family and address all concerns going forward.
We needed to find a place quickly, one that addressed dad's need for assisted care. We were quickly relieved to know that Credit River had all the resources required to address dad's needs… staff have been exceptional in helping me through this difficult transition.
I took a trial stay here with my mother, having also tried out nearly a dozen other retirement homes throughout Mississauga and Oakville. This was the one that impressed me most.
---