Carp Commons Retirement Village Review
458 Donald B. Munro Drive, Carp, Ontario, K0A 1L0
---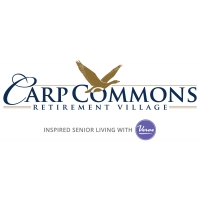 | | |
| --- | --- |
| TYPES OF CARE OFFERED | Dementia & Memory Care, Assisted Living, Independent Living |
| COST FROM | $3,300 per month |
| TOTAL NUMBER OF SUITES | 129 |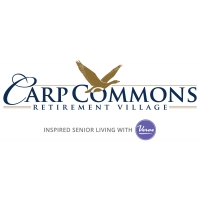 Carp Commons allows people to retire in this lovely, heavily-rural area, west of the hustle and bustle of Ottawa proper. It's also a growing area, of course, and this community is one of many developments happening. This will be an ideal destination for people from throughout Eastern Ontario who want to be close to family in Kanata and the west end of Ottawa. We think it will also appeal to people from throughout Ottawa Region who want a respite from the traffic and noise of the city.
This mid-rise promises to deliver on Verve's philosophy of making every day great. Seniors who are still independent but no longer want to live alone will find their enthusiasm for life rekindled here. It's a perfect solution for people who have had enough of cooking solo meals and want to make their own decisions about where and how they live.
Independent seniors will find a home on the top floors' private residential units, where you can choose to come downstairs to participate in activities (of which there will be many, we assure you). You'll also be able to relax in the spa, take a meal in the dining room or see what's happening in the games room. We've seen before that this is the kind of residence that encourages seniors to make a whole new group of friends.
This is the kind of place where people will discover how great senior living can be. The expertise behind this project will help create a community where people make friends, form bonds and enjoy life in a group of senior peers. Those who have lived alone will find that they make great friends with others and learn to enjoy life anew.
You really will find it nice to have people your same age just outside the door, people who want to be with you. You'll also discover that your interests expand. Consider the possibility that some of your best days might still be ahead of you. We have seen many people's lives improve immensely in places like Carp Commons.
More about this community
All independent suites will feature private terraces with different views of the village of Carp on the north, east and west of the building, or of the Carp River to the south.
Assisted living and memory care will be on the second floor, including medical services and other personal care.
Personal services available will also include podiatry and massage therapy.
Photos of Carp Commons Retirement Village
What people say about this community
New community. Reviews coming soon.
---