List of communities in Alberta
---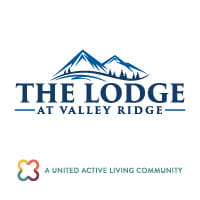 The Lodge at Valley Ridge
11479 Valley Ridge Drive NW, Calgary, Alberta, T3B5V5
Central-west Calgary seniors (and family members) looking for a change for the better might find much more than they bargained for in the Lodge at Valley Ridge. Take all the best things from your current home and move them into a spacious, welcoming community of happy peers. People here live a full life every day, one perfectly matched to the person they are at this stage.
This community offers exceptional luxury in a community that is also, in fact, very relaxed. There are many fun activities on the weekly schedule to get people involved and cement friendships. During the winter months, there are fun indoor activities (the annual St. Paddy's Day dress-up is a hoot!) and lots of outdoor activities in summer, set against the backdrop of the gorgeous exterior greenspace. You can also take part in coffee time, ladies hour, men's luncheon, happy hour, etc. Staff here make it a goal to focus on the uniqueness of each community member, and that comes out in interactions you see throughout the community.
read review
---
Prince of Peace
285030 Luther Rose Blvd NE, Calgary, Alberta, T1X 1M9
Prince of Peace lives up to its name by offering a uniquely tranquil countryside setting, in a community close enough to the city to make day trips and family visits easy. Inside, there are delicious chef-prepared meals and features that appeal to a variety of tastes, including a tuck shop, woodworking shop, chapel and more. Outside, residents enjoy a quiet stroll with views of the open prairie on one side and the spectacular Rockies on the other.
Care staff here is focused on offering "person-centered" care. Seniors are encouraged to improve their own health and wellness through the excellent food on the menu combined with local fitness facilities. A physician is also on call, and nurses are on staff around the clock. This community offers improved living for newly moved seniors. with many updated facilities that include contemporary features like walk-in showers (among many other features).
read review
---
This is a uniquely planned seniors' community. While this is ideal for families in the southeast area of Calgary, families and seniors from throughout the city owe it to themselves to check out the uniqueness here. It's a community that includes studios and suites as well as thirteen cottage bungalows. This is another stellar example of forward-thinking in the design and creation of contemporary retirement communities.
There are other notably modern aspects to life at this community including an emergency response system, easy access showers, and executive-chef-prepared meals available daily. But features mean nothing if there isn't that feeling of vibrancy, something more than just material living. Lake Bonavista Village offers this in spades, augmenting its excellent facilities with a long list of life-enhancing features that includes exercise classes, and planned outings to offsite venues. Adding to the uniqueness of this community you'll find art classes, stimulating presentations offsite and on, and a full slate of other daily activities ranging from book clubs to a walking club to a ukulele circle.
Assisted living is also an important part of the care here, with round-the-clock personal aide workers, as well as health care professionals on staff.
read review
---
Trinity Lodge
1111 Glenmore Trail SW, Calgary, Alberta, T2V 4C9
This well-established community in central southwest Calgary exudes comfort. You might feel like you're going back to a warm, familiar time in these traditional surroundings. In fact, people here are encouraged to keep select aspects of their own past with them when they take treasured keepsakes from home during their move. Even your fluffy friends are welcome, too.
Inside you'll find suites with large picture windows to let the warmth and light in. All the conveniences of communal living are here, creating a bustle of activity. Friends greet friends at any of the wellness centre, the in-house Bistro or in a quiet corner of the library. Ladies enjoy weekly visits to the beauty salon. And the general store is just one more popular meeting spot. Beyond that, there's so much more!
read review
---
Dr. James Hemstock
4202 54 Ave,, Lloydminster, Alberta, T9V 2Z3
Dr. Hemstock Residence & Hearthstone Place brings big city quality and luxury to Lloydminster. Inside its doors, you'll find a group of seniors who demonstrably feel a social connection to each other. This home encourages friendships through its book club, bingo nights, group exercise and a wide collection of other activities that lets people stay as busy as they want. Activities like the ice cream social and tai chi are especially engaging, and there are also yoga sessions and games. Seniors here love the communal life. This place instantly rejuvenates with its vibrant atmosphere.
There are also quiet, relaxing times to be found here, whether that's in the privacy of your spacious studio or apartment, or by relaxing in the library perusing the community collection of books. Outside, spring summer and fall activities include gardening clubs, local hikes, birdwatching and more. This is a community that looks after seniors in a wide variety of ways.
read review
---